The Nebraska Track and Field Festival is being held today at Papillion-La Vista Stadium today. The Nebraska Track and Field Festival is Nebraska's only Statewide All-Class Meet. The meet is a grassroots creation by track and field coaches to provide a special, meaningful track and field experience to all of Nebraska's best. North Central Athletes Competing: Brooklyn Buell - Pole Vault Jillian Buell - 100 & 200 Hunter Wiebelhaus - High Jump, 200, & 400 Live Results
https://results.blacksquirreltiming.com/meets/7465
Live Stream
https://www.youtube.com/channel/UCRPAlqzm_x97aSMK-S_TviA
The JH Golf Triangular for today has been moved to Friday, April 23rd at 2:00PM at the Bassett Country Club. The Boyd County JH Golf Triangular will be held on Thursday, April 29th at 2:00PM at the Butte Golf Course.
We are adding a track meet for our JV kids next Tuesday, April 27th @ O'Neill - This is the Boyd County track meet. Please talk to your athlete about whether or not they will be going.

O'Neill Invitational Junior High Track Meet Order of Events for tomorrow, April 20, 2021.

Due to road conditions, Rock County Public Schools will have a 10:00 AM start today, Monday, April 19. Again, Rock County Public Schools will have a 10:00 AM start today.

Upon further consultation with the health department, Rock County Public Schools will not be assisting in gathering information on student vaccinations. There will NOT be a survey to fill out by students or parents.

North Central District Health Department is asking for students age 12-19 to fill out a survey to gauge interest in receiving the COVID-19 vaccine. This survey is not a commitment to receive or not receive the vaccine. It is simply to let the health department know if there would be interest for this age group. If you would like your child not to participate in the survey, please let them know and they will not have to fill it out.

Below is the O'Neill Invitational High School Track Meet Schedule for 4/15/21.

The high school track meet scheduled for Tuesday, April 6 has been rescheduled for Tuesday, April 13 and will be run with the junior high track meet. There will be no school for students at Bassett Grade School or Rock County Junior High and High School Tuesday, April 13.

There will NOT be JH Track practice today after school.
The 93rd Nebraska State FFA Convention is happening this week. Rock County FFA members have spent the past three weeks competing in contests. Please plan to tune in to help celebrate their accomplishments. Sessions will be streamed live as well as archived at
www.neaged.org
Here is who will be featured: Wednesday, April 7th 6:30 p.m. Session : Jillian Buell and Jaya Nelson are proficiency finalists 8:00 p.m. Session: Ty Nelson, Jaya Nelson, Jillian Buell, Sailor Jewett, Ben Bruns, AJ Benemerito, Zach Dickau, Grace Olson, Karley Anderson, and Carlee Fleming will be receiving their State Degrees Thursday, April 8th 7:00 p.m. Session: The Ag Sales team of Jillian Buell, Jaya Nelson, Gracie Swanson, and Brooklyn Buell are finalists. The Ag Issues team of Mason Hagan, Tatelyn Smith, Dakota Andrews, Adi Anderson, Mariah Ost, Keira Taylor and Brooklyn Buell are finalists. Friday, April 9th 7:00 p.m. Session: Kade Wiiest, Discovery Speaking and Reece Taylor, Ag Literacy Speaking will receive their awards for their speeches. Jaya Nelson will be recognized as a State Star in Ag Business. Jaya is also a finalist for State Office and will find out if she will serve the association as a 2021-2022 State Officer.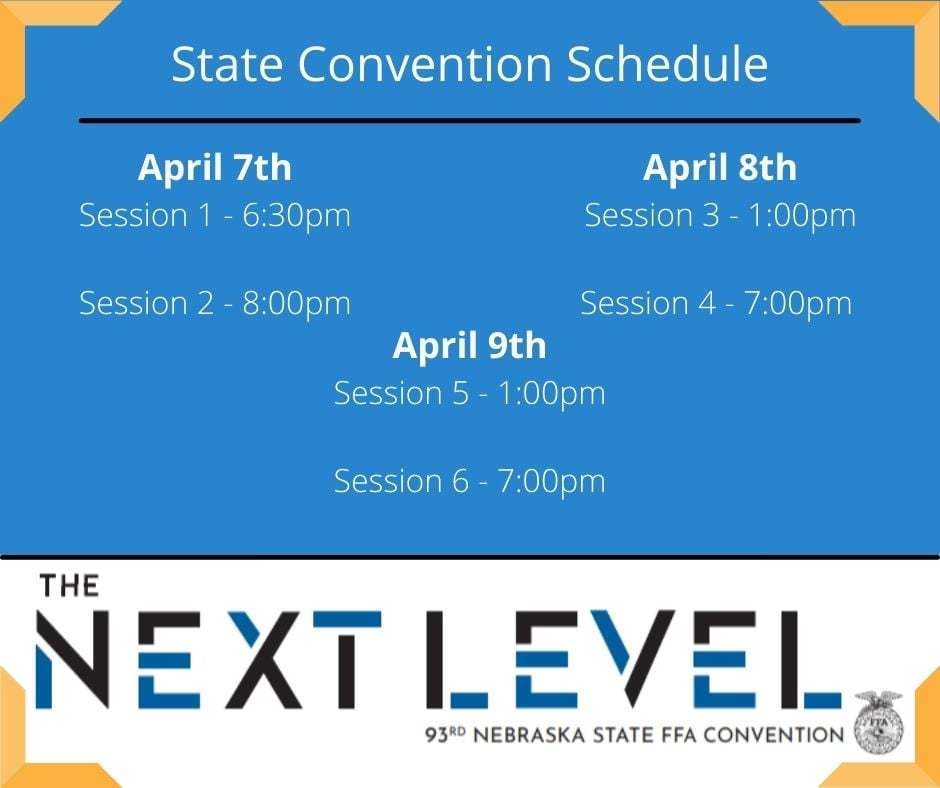 Menu Changes for this week: 4/6 - Lunch will be Sloppy Joe-Fruit-Vegetable-Milk 4/8 - Lunch will be Chicken Nuggets-Fruit-Vegetable-Milk

Rock County Junior High and High School students will have school tomorrow, Tuesday, April 6 due the track meet being postponed. All students will have school tomorrow, Tuesday, April 6 at Rock County.

Reminder: NO School at Rock County High School only tomorrow, April 6th due to High School Track Meet.

From Coach Gentele: There isn't a JH track meet this week. JH track kids will have practice on Tuesday at 4:00. You can email her at
hgentele@rockcountyschools.org
if you have any questions.

Ainsworth JH Track Meet Information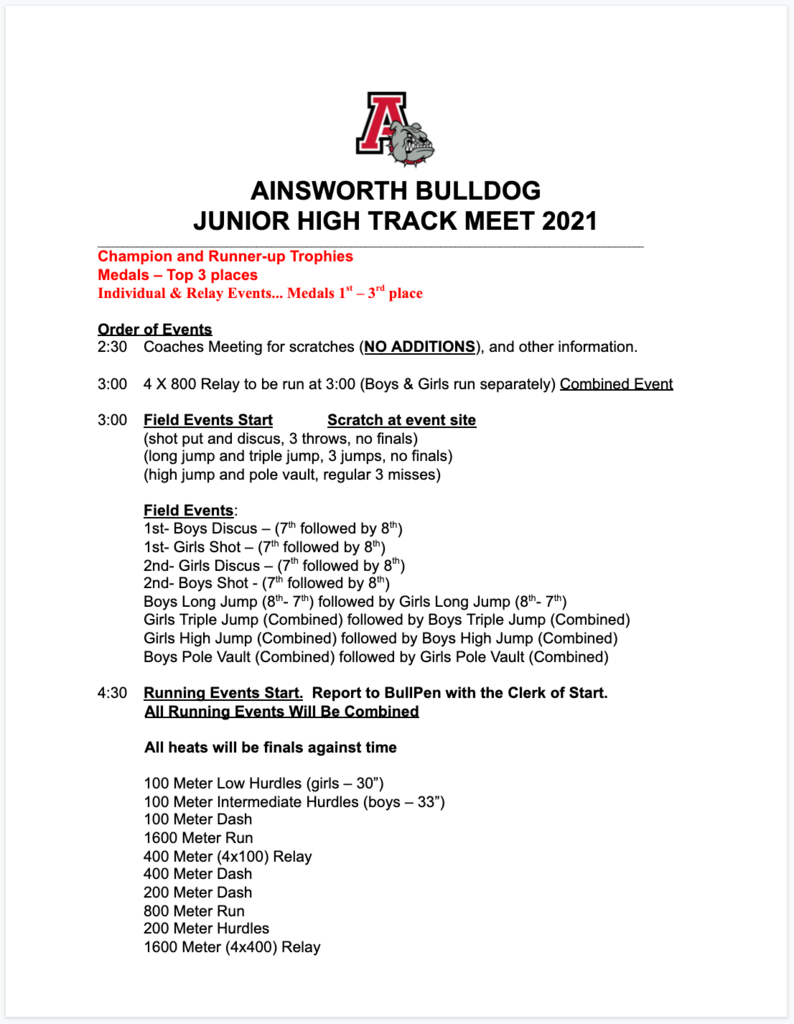 Congratulations to these students for receiving the NCPA Academic All State Award for Winter Activities. Wrestling - Zach Dickau Girls Basketball - Adyson Linse & Keely Munger Boys Basketball - Ben Bruns & Ryan Painter Speech - Kyra Anthony & Hannah Keller

Congratulations to both the Junior High and High School Quiz Bowl teams on their 1st place finishes at the Quiz Bowl Competition in Ainsworth Monday and Tuesday at the ESU!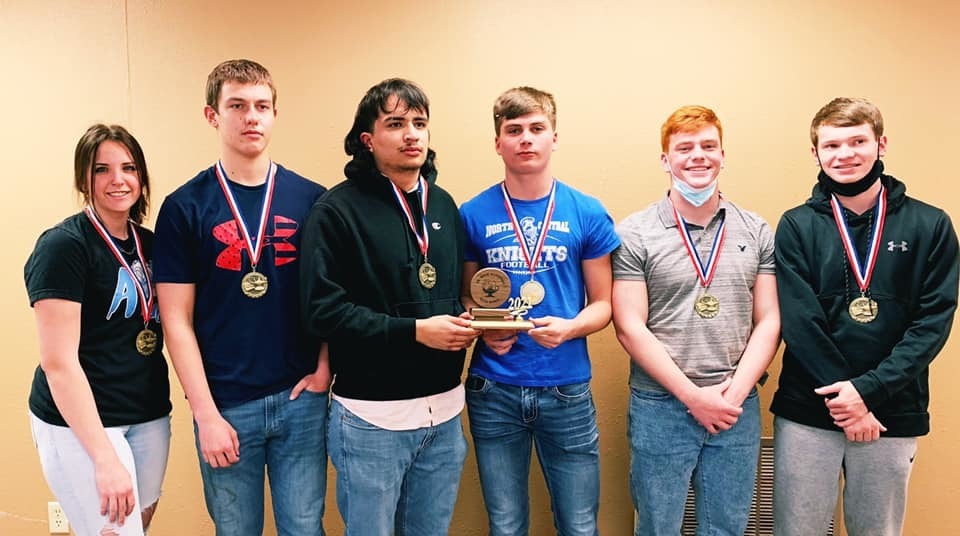 Spring Sports Pictures for High School Golf and Track will be on Thursday, April 8th at Rock County during practices.
Kindergarten Roundup 2021 April 28th 2:00-3:30