We hope you have a fun and safe 4th of July! The RCHS office will be closed on Friday, July 2nd in observance of the 4th of July holiday. We hope you will enjoy the holiday with your family and friends.
Reminder: Tuesday June 22, 2021 we will be traveling to Valentine Ne to participate in the the North Central Nebraska JH Boys Summer League team camp. The van will leave RCHS at 7:30 am. Bring your jersey top and meet at the school around 7 am. Bring Snacks and drinks to eat at the camp. We can stop at McDonald's afterwards so bring money if you want something there. We should be back around 2:30pm to 3:00pm. - If you have any questions please contact Tim at
tbussinger@rockcountyschools.org

Reminder, all students wishing to participate in sports during the 2021-2022 school year will be required to have a physical prior to the start of conditioning. Also, all preschool, kindergarten, and 7th grade students need a physical to attend school in the fall. Kindergarten students also need an eye exam prior to starting school.

Rock County Public Schools are in the process of reviewing the return to learning plan from the 2020-2021 school year to make it reflect our needs for the 2021-2022 school year. An initial draft plan with updates has been uploaded to the school website under documents. If you would like to review the plan and provide input, you are encouraged to email Mark Otten at:
motten@rockcountyschools.org
or call the school at 402-684-3411. Please use the subject line "Reopening Plan" for emails. All input provided prior to July 1st will be considered by the committee prior to finalizing the plan.
Summer Food Program Participants: Next week, the week of Expo, Wednesday and Thursday meal pick up times will be changed to one time per day from 7 - 9 a.m. This change is only for Wednesday and Thursday for both daily and biweekly participants; if you have any questions please contact Christi at
cleonard@rockcountyschools.org
. Thank you.
Reminder: Tuesday June 8th the Junior High boys will be participating in a team camp at O'Neill. We will be leaving from RC at 7:45 am. I will have uniforms for them to wear and will hand them out then. The boys will need to bring food and something to drink. I will take them to DQ after we play our last game, please send money with your player. The tournament should be done by 1:00 pm. Any Questions please contact myself, Tim Bussinger @
tbussinger@rockcountyschools.org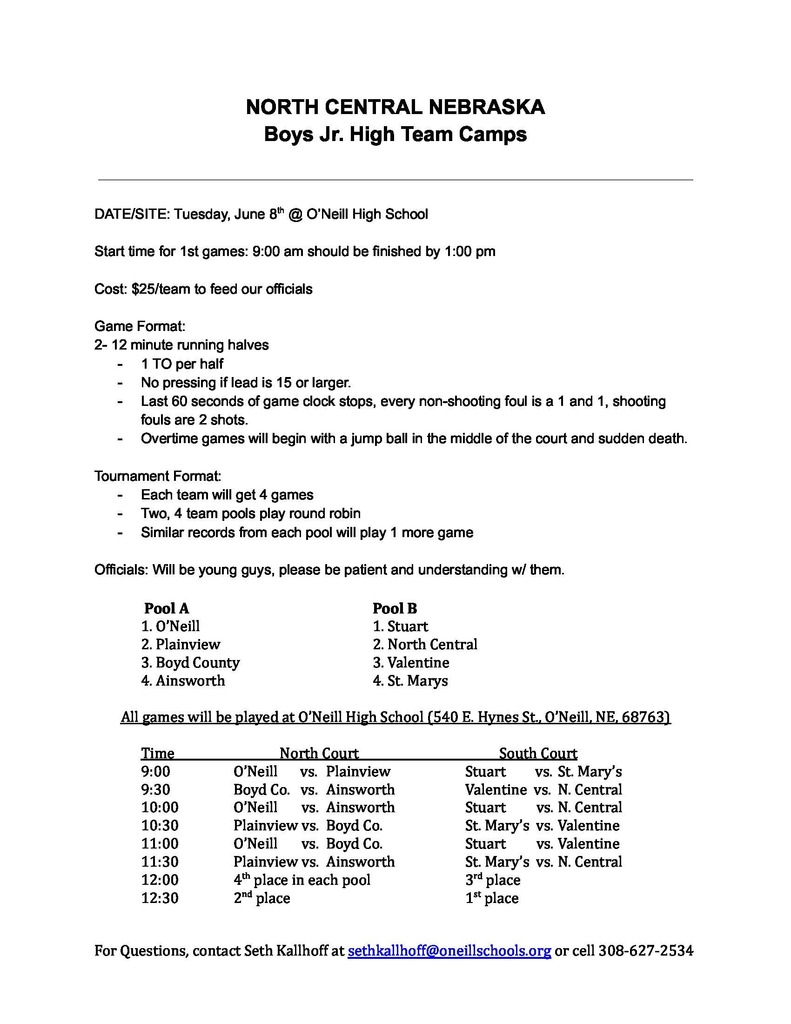 TRACK CAMP (Hosted by Doane College) June 8th, 2021 @ Ainsworth Please see the flyer for information.
Zak Palmer Memorial Wrestling Camp WHEN: Friday, June 11th - 6PM-8PM and Saturday, June 12th - 8AM-10AM WHERE: Rock County High School INVITED: NC Knights 7-12 Graders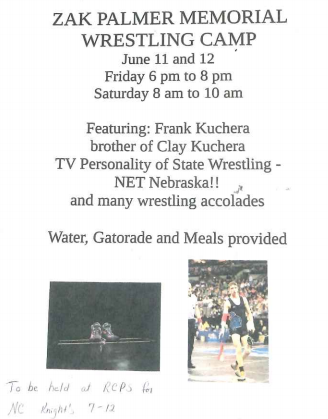 JH Boys Basketball - Summer Activities (Incoming 7th & 8th Graders – 6th Graders are Encouraged) Skills Camp – Thursday, June 3rd – 8:30am – 12:00pm @ Bassett Skills Camp – Friday, June 4th – 8:30am – 12:00pm @ Springview - Van leaves RC @ 7:45am (Incoming 7th & 8th Graders) JH Team Camp – Tuesday – June 8th @ O'Neill – 9AM – Van leaves 7:30AM JH Team Camp – Tuesday – June 22nd @ Valentine – 9AM – Van Leave 7:30AM

Just a reminder, Little Knights Basketball Camp for students entering grades 3-8 will be tomorrow (5/25) and Wednesday (5/26). If you haven't registered and would like to or have questions, please contact Coach McCleary. Also, if you haven't paid, please bring a check for $30 made out to Rock County High School.
There will be open weight room hours Tuesday and Wednesday morning (5/25-5/26) from 6:30-8 AM for all student-athletes in grades 7-12. Then, summer weight room hours will be as follows: Week of June 1 (Tuesday-Friday) 7-12 Boys (6-6:45) - weight room 7-12 All athletes (6:45-7:15) - track or gym (speed/acceleration training) 7-12 Girls (7:15-8) - weight room Starting June 8, the weight room will be open those same hours Monday - Thursday each week. If you have questions, please feel free to contact Coach McCleary.

The Bassett Country Club Women's League is putting on a fundraiser for Abigail Rowan and Family to help with medical costs! There will be a hamburger feed on June 11th from 5-8. They are also selling bracelets! Below is the link for the bracelets! They are adjustable and should fit all sizes! Please message Holly Pospichal or Harlee Gentele if you have any questions!
https://forms.gle/kLewk3CGFkfa1SsX6

Our 2021-22 FFA Officers attended COLT Conference this week in Aurora!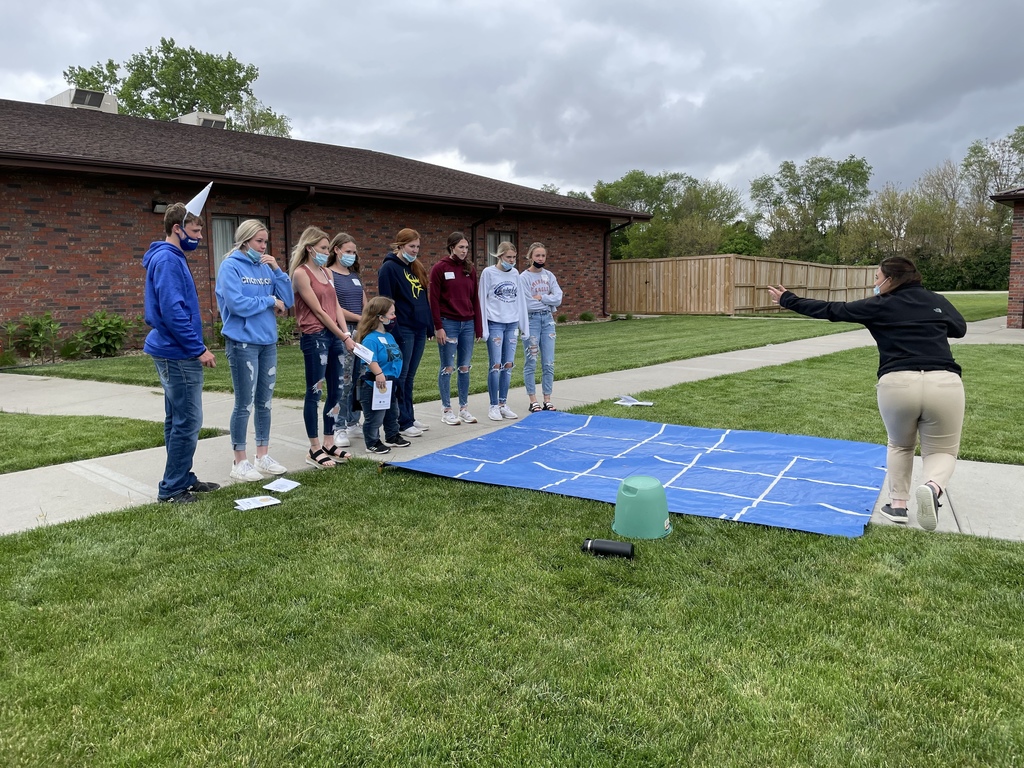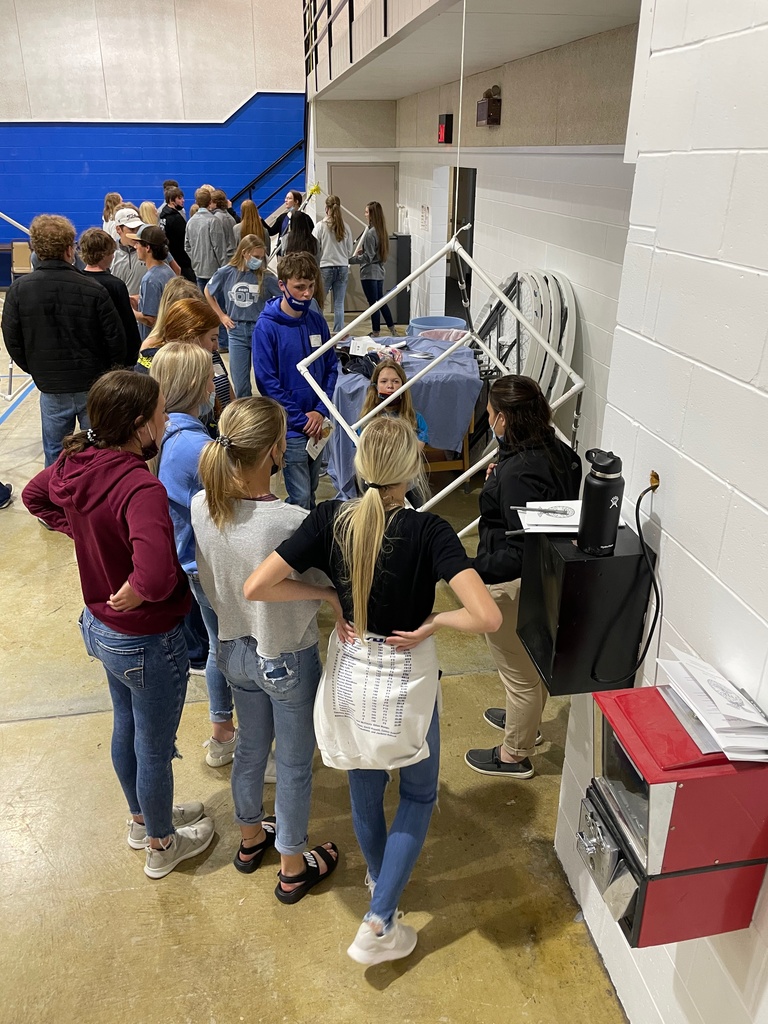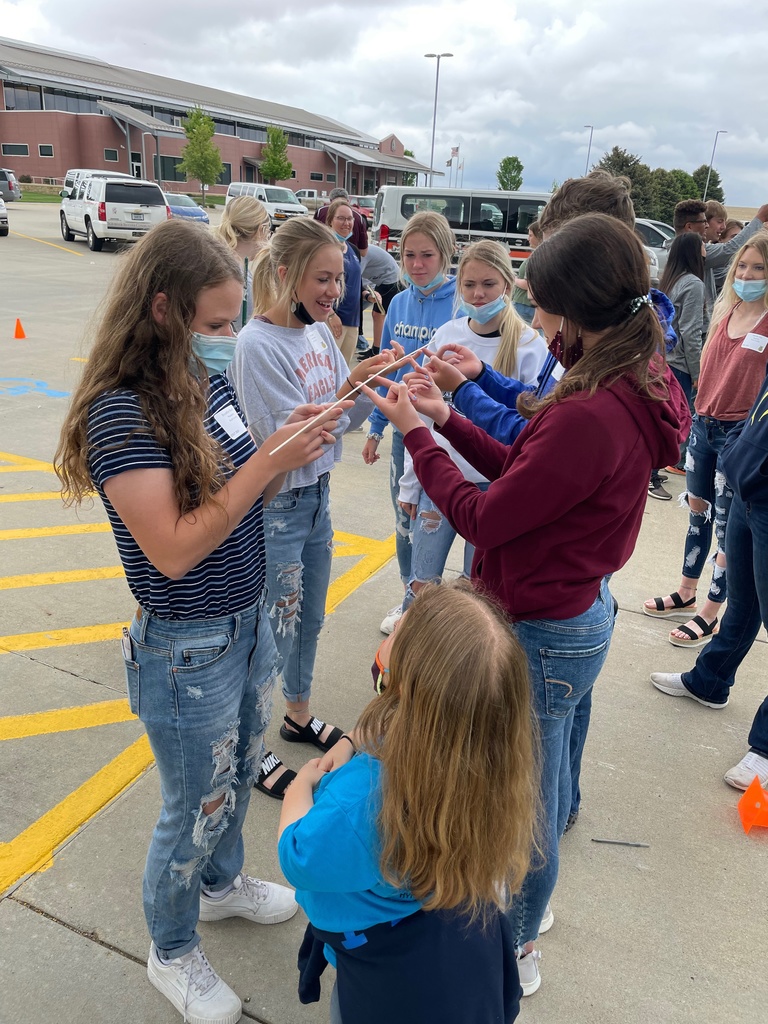 Reminder from the RCHS kitchen: Please pick up your meals today if you signed up for daily or twice a week pick up, and tomorrow if you signed up for weekly pick up.
State Track Ticket Information The link below contains information and instructions for purchasing tickets to the State Track & Field Championships. Tickets will not be sold on location. Tickets must be purchased online through GoFan
https://gofan.co/app/school/NSAA

2021 Graduation Photos From Bill Castle: I'm Zach Dickau's uncle who was in town from Colorado Springs, CO. I tend to take pictures at most family events to help snag some memories. While doing so I catch a little of everything and thus I hope to make available to the school, graduates and their families a little of the same. I place the photos on my website for widest dissemination. It's all free to access/browse/download any that they might like. I also can be contacted at this email address (
bill_deecastle@yahoo.com
) if they find a photo(s) that they'd like the original large file for editing. If there is a request I just need to have an email address and the file name(s) so I can work on transferring the original file. My website because of the quantity of photos I upload a lower resolution version of the file for viewing.
http://billcastle.photodeck.com/-/galleries/family/zachs-graduation-8-may-2021
THANK YOU BILL!
Reminder to BGS Parents that BEEP registrations are due May 17th.

Time is running out to order your yearbooks! The last day to order is May 21st. Be sure to visit
https://yearbookforever.com/
to get one ordered today!
Bassett Grade School Awards will be held at 9:00 on Friday, May 14th. Parents are invited to attend.

Menu Change for 5/12 - Lunch menu will now be Chicken Fried Chicken, Mashed Potatoes, Gravy, Apple Crisp, and Milk